The 8 hour Deal
Day Conference
Meeting room with fruit, water, coffee and the technology you need

Morning coffee (yes of course with homemade pastries)

Afternoon snack to get that energy flowing
Price:
Starting at 628 sek/person
excl. VAT
The 24 hour Deal
Kick-off or Day Conference incl. room and dinner
Meeting room with fruit, water, coffee and the technology you need

Morning coffee (yes of course with homemade pastries)

Afternoon snack to get that energy flowing

4-servings delicious dinner
Price:
Starting at 2300 sek/person
excl. VAT
The 32 hour Deal
2-days Kick-off or Conference incl. room and dinner
Meeting room with fruit, water, coffee and the technology you need

Morning coffee x 2 (yes of course with homemade pastries)

Malmö's bestest lunch x 2

Afternoon snack to get that energy flowing x 2

4-servings delicious dinner
Price:
Starting at 2900 sek/person
excl. VAT
The
locales
The Flower Garden
FOR THE COOL KIDS
Seats 40 cats in current restaurant set up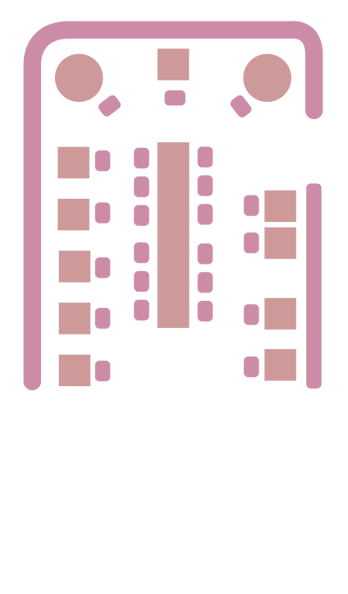 The Pink Parlour
FOR LARGER GROUPS
Seats 20 peeps in boardroom style
The Velvet nest
FOR TIGHT-KNIT TEAMS
Seats 10 humans in boardroom style
Something
extra!
Celebrate your
latest success
and spice up
your meeting:
Book one of our private rooms and take your meeting to a whole new level:
Cocktail trolley
Mix your own Old Fashion or Dry Martini
Karaoke machine
Who is your company's undesignated pop star? Uncontrollable laughter guaranteed.
Your own DJ
Best way to end today's meetings? With a damn fine party of course!
Bubbles & Bubbles
No party without soap bubbles and champagne tasting!
Candy-floss
We all know that sugar is an excellent flavor enhancer. Pink of course!
Flamingo
'Cause everything is always better with a flamingo
Party
&mingle!
Bring your crowd
and mix business
with pleasure!
Book one of our private rooms and take your meeting to a whole new level:
Oysters & Champagne
A classic never goes out of time
Tequila Tasting
Tequila as you never had it before
4 Servings Dinner
An amazing four servings dinner signed Head Chef Frida Nilsson.
There's always something worth celebrating and at MJ's we always look forward to make your evening into something really really special.
Get in touch more information and bookings:
Frida.asplund@mjs.life
Meetings at MJ's
A conference or meeting at MJ's is always something else. Stunning, inspirational and funny facilities with the latest technology awaits you. And when we say funny we mean like literally funny.
You´ll laugh and you´ll dance.
Maybe a drink or two.
Definitely bubbles and flamingos.
Contact us to book your meeting!
Looking forward to hear from you
Frida Jeppsson Asplund, Sales Manager
e: frida.asplund@mjs.life
p: 0735-353406